15 press release examples
---
Press release examples : Our models
This page presents different press release examples. We show you, through examples, what to do and what not to do! The best press release writing practices we recommend are available on this page.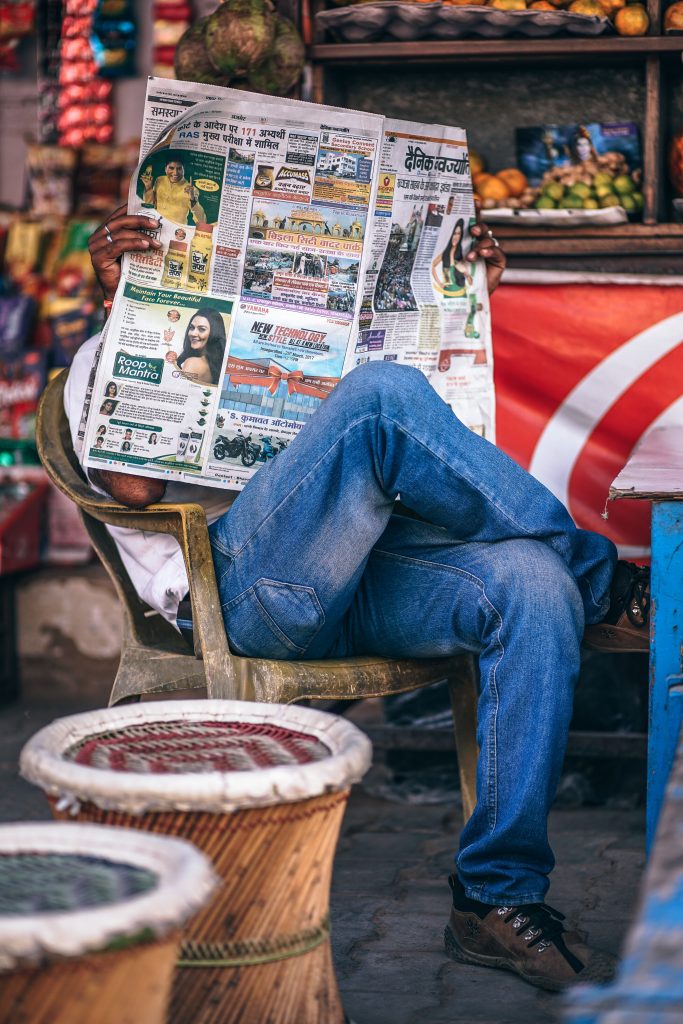 Introduction
Companies design products : it's complicated, uncertain and expensive work.
There are two ways to introduce a new product to their potential consumers :
Advertisement
Press releases
Advertising is expensive or very expensive and its "ads" status makes it less credible to the consumer. Because advertising is by nature not objective. And the consumer knows it. The press release should be sent to journalists concerned by this type of product/news.
Summary
1. Press release examples for product launch
In the context of a press release of "product launch" you must make appear very quickly, even in the title if possible if not in the first paragraph, how the product is innovative. Because only innovation is likely to attract the journalist's attention. Innovation can reside in different levels. First product in a country or a geographical area, first product at European level, first product on the world market. It can also be a technological innovation. Or an assembly of technologies that defines a real and new technology. The examples of press releases below illustrate it.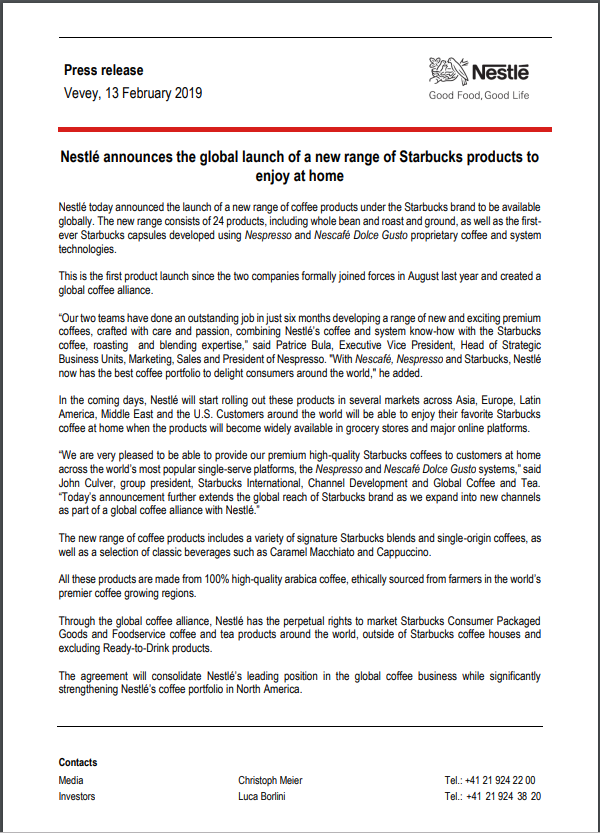 Press release example : Ingenico
Comments on this press release example :
Although we can not properly speaking of a "product" in this example, but we can assimilate it because it holds "in the hand".
There are already chat-bots and there are already electronic payment solutions.
The real novelty here lies in the integration of both. And that's what is announced in the title. It is thus a title which risks to arouse the curiosity of the recipient.
The title is short and clear, the intertitles are present: the document is comfortable to read.
Essential information is quickly available.  
On the other hand, the introductory paragraph is too long. It deserves to be split in two to air its reading. A simple return to the line would suffice to air the document. Same remark for the second paragraph, it lacks "aeration".
A simple carriage return would make reading more comfortable.
Press release examples : Canon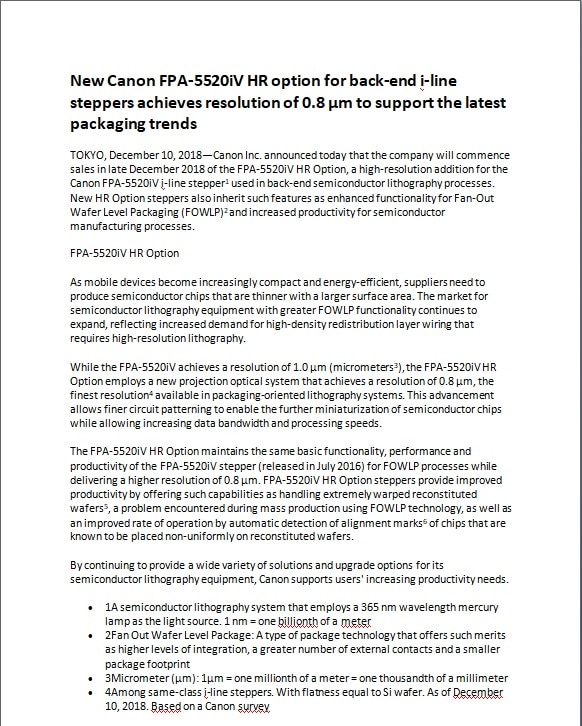 Our comments on this press release example :
Good
Innovation is clearly announced in the title
The benefit-client is announced : "innovative experiences"
Canon says the product will be shown in a Fair
To correct
The title is a bit long to fit in subject of an email.
The first paragraph is too long
Sincerely the document is a bit "indigestible". It is a bit massive. The first paragraph is 10 lines thick. The human eye does not like this type of presentation. Because the eye must make efforts to browse the lines . A line is clearly missing in the middle of the paragraph.
Press releases examples : launch service
The press release for a service launch follows the same rules as for product launch.
The product has a certain advantage: it can be shown through different photos. Human brain is lazy : it does not like to read, it prefers images. The disadvantage of communicating a new service is that it is difficult to show it through visuals such as photos.
It is therefore necessary to describe it clearly :
what?
who ?
how?  
what are the benefits and what is price?
The message should quickly indicate what problem this service provides a solution
Examples of press releases to announce an event
An event is a news that is relatively easy to describe : thematic, date, place, price, etc
Public or professional shows, play, show, meeting, sport event, etc : the media are fond of this type of news because they are easily treatable in the "agenda" of their media.
It is relevant to propose a "press invitation" to the targeted journalists. This can be a free entry, an invitation to the launch cocktail, etc.
Exemple 1 event :
4. Press release examples : announce a partnership
If your company signs a partnership agreement with a company it is relevant to be the subject of a press release
This is all the more relevant if you sign a partnership with a known company. Because everyone is interested in those with which large companies sign trade agreements.
5. Press release examples : announce figures or a study
The media are fond of numbers, statistics because it is very easy to process. Provided that the "source" of these figures or statistics is credible.
You must therefore be able to justify your statistics by a sufficient amount of data source to be able to claim a reliable statistics.
Press releases about the economic performance of a company are the easiest to write.
6. Press release examples : announce an acquisition/merge
It is a classic news of the type "corporate". Who buys who?
corporate acquisitions are part of the traditional news of the press "business" or the press "business".
Acquisitions or mergers are significant events in the growth of a business or the maturation of a market. This is called the market concentration phase.
---
General tips
A press release[1] is not a literary work … So avoid grammatical or syntactic formulas that are too heavy.
Forget the writer inside you
Clearly, forget the writer who lies dormant in you … Because a press release is not made to sell but to describe and inform! Privilege the following construction: SUBJECT-VERB-COMPLEMENT.
In the morning …
The recipient of your press release receives a lot of press releases. So make it easy for him. Ban the indirect style : it is painful for the brain … especially in the morning at 9am when the recipient opens his mailbox …
Rule of 10 seconds
To find out if your release is effective and clear there is a simple method. Give your release to someone who does not know the subject. Then leave the document in front of him for 10 seconds and then ask him to summarize in two sentences what the document is about.
Be clear and concise
Do not make sentences that exceed 20 words. Do not make paragraphs too long, without punctuation … Your text seems clear to you because you wrote it. On the other hand the reader does not necessarily have the same mode of reading as you. And so we must simplify his work by offering a sequential reading in direct style.
Short!
A press release must not exceed one page. That's about 400 or 500 words. Put the other informations in a press kit. The longer it is, the less it is read. We are used to consuming information in a very formatted and digestible way … Observe yourself when browsing websites. You do not read the texts too long, instinctively your eye looks for things short, clear, images …
---
The inverted pyramid
Hierarchy of information
The drafting rule of the press release is based on the principle of the inverted pyramid. Clearly: start with the most important information and finish with contextual informations (price, dates, location, etc.). So you can pass a message easily to anyone.
---
The press release : the essentials
The press release is a clear and concise document that objectively summarizes a fact, product or event.
What you should not do :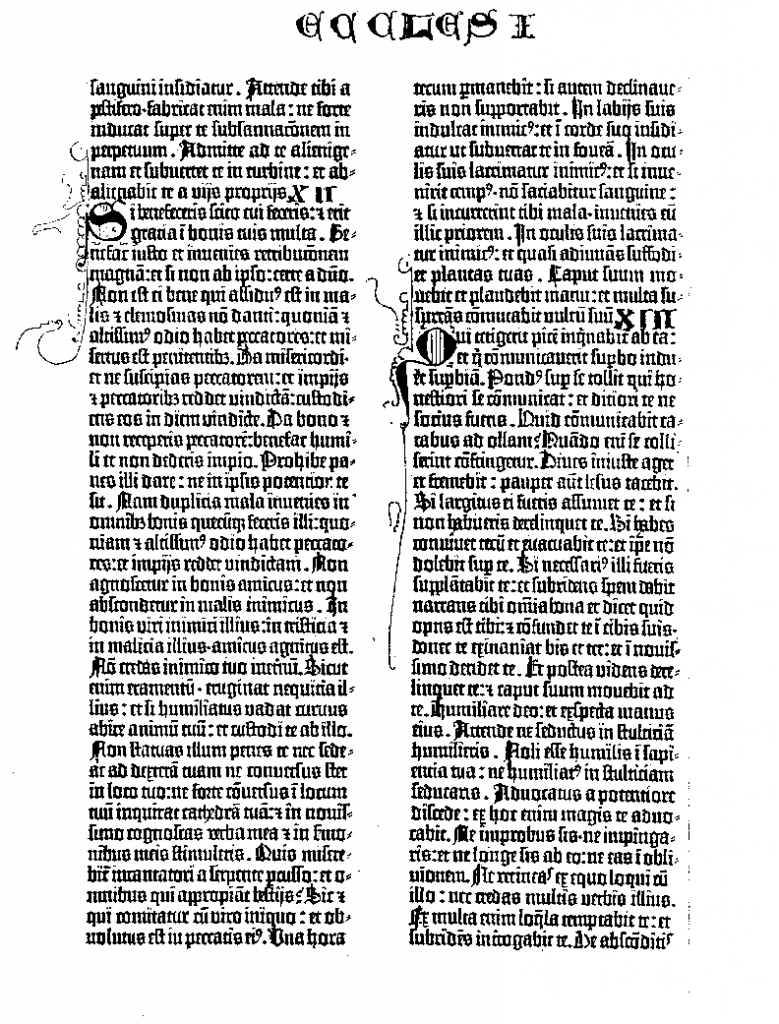 Seconds …
The press release must allow in a few seconds to someone who knows nothing about the subject to understand what it is about.
Do not sell!
The press release is not meant to sell. The press release is meant to inform objectively.
Prioritize …
It must display hierarchical information : what, for whom, how, how much. You will ease reading if you follow this format.
Clear and concise …
Remember that you are not the only one to want to have a media recovery, know that the journalist has more information than he has room in his media. You are therefore in competition with all the other press releases. The journalist will tend to focus on clear, intelligible, airy subjects.
A good test is to submit your press release to someone who knows nothing about you. He must be able to understand it in a few seconds.
---
Outline of the press release
The form
Never send your press releases as an attachment in an email. Because nothing is more forbidding than opening an attachment. This often triggers the anti-virus filters and this can take a long time if your press release contains images that are often bulky. Think about the problem of the PDF format. You can not copy / paste a text from a PDF …. So do not complicate the journalist's task!
Limit the length
The shortert is the better. The shorter the info, the more likely it is to be read. Every morning a journalist receives dozens of emails: save him a tedious and lengthy reading. Imagine a journalist receiving 100 releases every morning. He must read them between 9h and 9h10. Can you read 100 A4 page in 10 minutes? No. It is for this reason that you must build your document so that the subject is understandable in a few seconds. And so nice …
One page!
The best press releases are one page docment, most news can be written in less than one page. If your news is complex and requires more text : create a press kit in which you can enrich your subject. The journalist will give you only a few seconds to interest him in your news.
The reader is lazy
If you impose on him a boring reading he is likely to go to the next press release. A few seconds should be enough to catch his attention and invite him to continue reading. The title must be clear, short . Do not exceed twenty words in the title.
Air …
Make your document digestible and enjoyable to read … Do paragraphs with titles. Favor the reading comfort. Indicate by a visible mention the term "Press Release[2]" or "Press Info", to show that you do not send a simple commercial brochure or a prospectus in the editorial offices.
Please date
Date your release. Indeed, if the date does not appear clearly, the journalist risks doubting the freshness of this news. He will not make the effort to check this item so he will prefer to move on to the next release.
The bottom
Do not try to give several informations. Because none will be retained. So announce only one information per press release,. Be objective, do not "sell" your product. If you use a commercial vocabulary the reporter will question your subject. Because he should then check what you say in your communique: he will not do it. He will move on to the next communique.
No literature!
Ban superlatives: super, incredible, unique, … All these words make the subject less credible. Just be descriptive. Make short and clear sentences: you do not do literature but a press release. We can write for you your press releases. Our customers are satisfied: customer reviews.
Press release templates to download
Below we present examples of press releases. They will allow you to make your release more professional and thus increase its credibility. To view our sample news releases, click on the sample news releases below based on your theme. Press Releases to download.[3]
---
---
Source URL: Read More
The public content above was dynamically discovered – by graded relevancy to this site's keyword domain name. Such discovery was by systematic attempts to filter for "Creative Commons" re-use licensing and/or by Press Release distributions. "Source URL" states the content's owner and/or publisher. When possible, this site references the content above to generate its value-add, the dynamic sentimental analysis below, which allows us to research global sentiments across a multitude of topics related to this site's specific keyword domain name. Additionally, when possible, this site references the content above to provide on-demand (multilingual) translations and/or to power its "Read Article to Me" feature, which reads the content aloud to visitors. Where applicable, this site also auto-generates a "References" section, which appends the content above by listing all mentioned links. Views expressed in the content above are solely those of the author(s). We do not endorse, offer to sell, promote, recommend, or, otherwise, make any statement about the content above. We reference the content above for your "reading" entertainment purposes only. Review "DMCA & Terms", at the bottom of this site, for terms of your access and use as well as for applicable DMCA take-down request.
Acquire this Domain
You can acquire this site's domain name! We have nurtured its online marketing value by systematically curating this site by the domain's relevant keywords. Explore our content network – you can advertise on each or rent vs. buy the domain. Buy@TLDtraders.com | Skype: TLDtraders | +1 (475) BUY-NAME (289 – 6263). Thousands search by this site's exact keyword domain name! Most are sent here because search engines often love the keyword. This domain can be your 24/7 lead generator! If you own it, you could capture a large amount of online traffic for your niche. Stop wasting money on ads. Instead, buy this domain to gain a long-term marketing asset. If you can't afford to buy then you can rent the domain.
About Us
We are Internet Investors, Developers, and Franchisers – operating a content network of several thousand sites while federating 100+ eCommerce and SaaS startups. With our proprietary "inverted incubation" model, we leverage a portfolio of $100M in valued domains to impact online trends, traffic, and transactions. We use robotic process automation, machine learning, and other proprietary approaches to power our content network. Contact us to learn how we can help you with your online marketing and/or site maintenance.